Reading
Learning to read is every child's birthright, and it opens the door to future success, as well as to the world of books and reading for pleasure. Helping children to become confident, fluent readers is a core function of our school: all teachers at Wood Farm School see themselves as teachers of reading. During their time with us we want children at Wood Farm to learn how to read – and also to become readers, and to love reading for pleasure.
Our aims are to enable children to: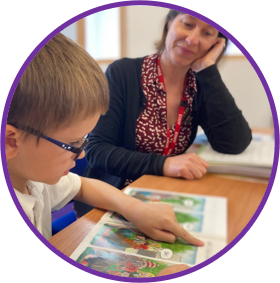 Read accurately, fluently and with enjoyment
Appreciate a wide variety of fiction, poetry, plays and non-fiction
Be able to use reading skills to find information and to help with their learning
Love reading for pleasure, and be passionate about books
What you will see
Children showing their love and enjoyment of reading, whether reading independently, sharing books with other children or adults, or recommending reads to other people.
A reading-rich environment, where books and reading are celebrated in every classroom, and in our dedicated reading spaces around the school, including our beautiful library.
Children being taught to read through our consistent phonics programme, Floppy Phonics, whether as a whole class, smaller group, or one-to-one.
Children enthusiastically sharing a book as a class, having rich discussions about their reading and sharing their excitement and enjoyment.
Reading volunteers from our local community sharing books with the children.

Children across the school taking books home to share at home.
What you will hear
Children confidently talking about their love of reading with others, and making recommendations to their peers.
All adults in school sharing their own love of reading with children.
Teachers reading to their class daily from a class book.
Children confident to read with adults and other children.
How we teach reading
Phonics
Phonics means the sounds that letters, and groups of letters, make. We teach phonics in our school using a teaching programme called 'Floppy's Phonics'. You can read more about phonics in our school here. The very first stage of phonics teaching begins in Foundation Stage, with children learning and joining in with songs, nursery rhymes and word games.
Children also begin short, daily, phonics sessions in reception classes. These continue in Year 1 and Year 2, with children being taught the sounds in the English language and the letters that represent them - and how we blend sounds together when reading words.
Guided reading
Guided reading means reading with a teacher or adult, where a small group of children are all reading the same text. Children have a guided reading session with an adult each day in school, up to the end of Year 2. From Years 2 – 6 guided reading happens once a week for most children.
Sharing or whole-class reading
All classes in our school have a 'class book' that their teacher is reading to them during the week, or during the day – for younger children this might be a high quality picture book, or shorter story book; for older children this might be a longer chapter book, read over a number of weeks. In Whole Class Reading sessions, children will explore an extract in detail together, discussing the authors choice of vocabulary, inferring from the text, making predictions, explaining their responses, retrieving information and summarising. Sometimes these responses will be verbal, other times they will be written.
Independent reading
Younger children will have a book, selected from the appropriate stage of the Oxford Reading Tree scheme, to read at school and to take home to read. Oxford Reading Tree is a structured reading scheme – meaning it is made up of books written to match different stages of reading ability. Children throughout the school are also able to choose books to read in class and at home from their classroom book collections, and from the school library.
Our Reading Team
The reading team is made up of members of school staff who have particular responsibilities for standards in reading across the school:
| | |
| --- | --- |
| Name | Specialism |
| Ms K. Lydiat | Literacy co-ordinator |
| Miss R. Key | Phonics Lead |
| Miss M. Jenkins | Reception Leader |
| Mrs A. Holden | SEN co-ordinator |
Further information: