Design and Technology
At Wood Farm, children develop to become creative, lateral thinking designers. Through our Design and Technology curriculum, we embrace our local area's heritage as a city of engineering and manufacturing, as well as the UK's reputation as a country of innovation.
Children are taught to take risks, become resourceful and innovative in their thinking, and reflective in their evaluation– skills vital to their own and our country's future. Design and technology has huge importance in children's development, harnessing their scientific, computing and mathematics knowledge and applying this to real-life problems and practical solutions.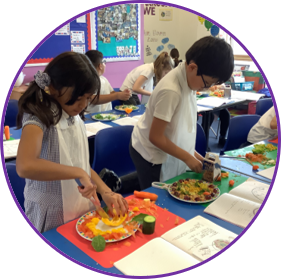 What you will see:
Children engaging with real-life problems together, collaborating and considering their consumer,
Children selecting from age-appropriate equipment and materials and using them with skill and confidence to create beautiful products.
Children using annotated sketches, prototypes and diagrams to improve their ambitious designs and create their final products.
What you will hear:
Children analysing a design problem and discussing the needs, wants and values of their consumers.
Children discussing and explaining their ideas using key technical vocabulary.

Specific, constructive reflections by children about designs and products created by them, their peers or professional designers.
Children being encouraged and supported to take risks and be ambitious in their plans.
For one half term each year, years 1 to 6 focus their project learning on Design and Technology. Children solve a real-life problem using their knowledge, creativity and imagination. They are encouraged to take risks and keep evaluating their plans to improve them, while honing the technical, practical skills needed to construct their product. The focus is different in each year group and varies from food technology, to solving ecological issues, and game design. Evaluating is a key skill required – both of their own work, and those of existing products and designers.
Throughout the year, constant links will be made between DT and other areas of the curriculum: the literacy and artistic skills are use to develop and communicate their design ideas, and the technical skills of design, the 'Design, Make and Evaluate' process will be used across the curriculum, as well as historical learning about famous designers from the past, for example William Richard Morris of 'Morris Motors', Al-Mansur, who founded the city of Baghdad.
Click here for our Design and Technology 'I can' statements
Click here for our 'Art, Design and Technology Progression'